EYE EXAMS AT Sobel Eyecare
---
Sobel Eyecare is committed to give you the best possible eye exam and experience possible. Dr. Sobel has extensive experience performing eye exams on children and adults of all ages. Dr. Sobel sees medical emergencies, ranging from eye infection and inflammation, eye pain, and foreign bodies needing removal from the eye.
Eye Exams in Lathrup Village, Michigan
Dr. Sobel comments on his eye exams, " I want the patient to leave the office confident that they had a doctor who truly cared about giving them the best prescription and eye exam possible. I have trained my staff to know how to fit frames so that they are the right fit, giving proper comfort as well as the type of frame which can give the maximum vision for their prescription.
Our staff is knowledgeable about the variety of lenses to help the patient for various situations, such as computer use and lens aesthetics. We also ensure that the lab makes the glasses with the proper specifications and that nothing was overlooked. I have trained my staff on how to inspect the prescription even with very complicated prescriptions. Patients can have peace of mind that their glasses are made correctly."
Dr. Sobel adds, "Each day I look forward to helping the next patient, asking myself... how can I help them with their symptoms of eyestrain, blurred vision, or headaches. It gives me much pleasure knowing that their daily lives will now be without any more headaches or strain."
Dr. Sobel has extensive training and experience in the fitting of standard contact lenses as well as complicated contact lens fits, including irregular shaped eyes requiring contact lenses to see properly, such as Keratoconus patients. He also can fit patients needing prosthetic contact lenses. Sobel Eyecare works with a variety of contact lens vendors and labs to offer the widest choices available.
I just had my yearly Eye Exam. Dr. Sobel and his Team is dedicated to their patients and ensuring that you get the best care possible. He is taking all the time needed to make sure your eyes are healthy and you are getting the perfect glasses/ contact lenses. His Team is very friendly and welcoming and it's always a pleasure to talk with them.
-
Andreas B. Verified patient ZocDoc
I saw Dr. Sobel for redness and discharge in my left eye. He did a very thorough professional exam and effectively resolved my issue. He was highly knowledgeable, as well as very friendly and personable. Excellent and impressive overall experience, and would highly recommend as a family optometrist.
Extremely thorough and professional. What distinguishes him from larger I care companies is the individual service. Not only does Dr. Sobel conduct a comprehensive exam but it's very personal and it feels like concierge service. You're not just a customer you're family.
Complete Eye Exams in Southfield, MI

Children. Specialists estimate that approximately 5% to 10% of pre-schoolers and 25% of school-aged children have vision issues. The American Optometric Association (AOA), recommends that all children age 3 and again before school starts. Children with no vision issues or risk factors for eye problems should have their eyes checked at least every two years throughout school.
Children who have vision issues or risk factors should have their eyes examined more often. Commonplace risk factors for vision problems include:
premature birth
developmental delays
turned or crossed eyes
family history of eye disease
history of eye injury
other physical illness or disease
The AOA recommends that all children who wear glasses or contact lenses should have their eyes checked at least once per year or according to their eye doctor's instructions. Read more about Pediatric Eye Exams.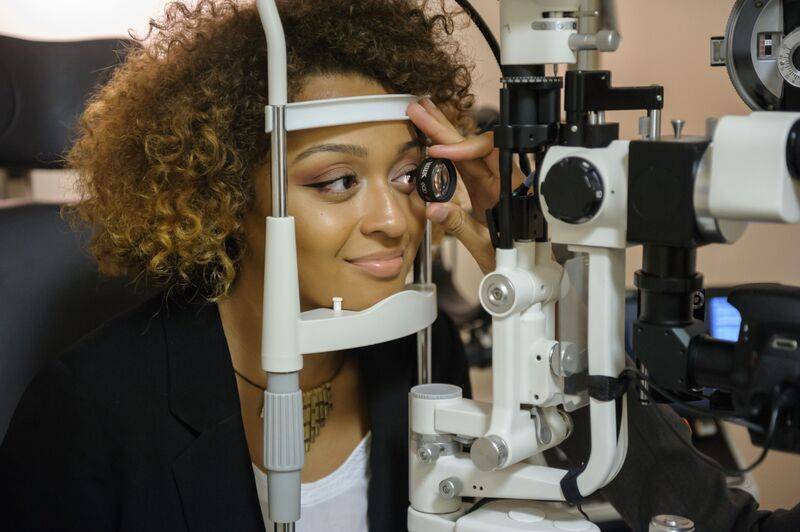 Adults. The AOA recommends a yearly eye exam for any adult who wears eyeglasses or contacts. If you don't generally need vision correction, it's still important to have  an eye exam every two to three years up to the age of 40, depending on how quickly your vision is changing and overall health. Our Lathrup Village eye doctors often recommend more frequent examinations for adults suffering from diabetes, high blood pressure and other disorders, as many diseases can have a negative impact on vision and eye health.
When over 40, it's important to have an eye examination every one to two years to check for commonplace age-related eye problems such as presbyopia, cataracts and macular degeneration. Read more about Vision After 40.
The risk of eye disease increases with advancing age, so everyone over the age of 60 should be examined yearly.